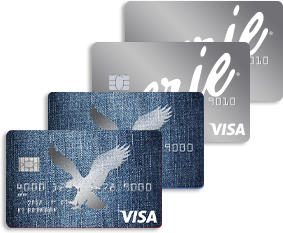 Required Credit Score
Good (660 - 719)
Pricing and Terms
Rewards Type
Points Rewards
| | |
| --- | --- |
| Purchases Intro APR | N.A |
| Purchases Intro APR Period | N.A |
| Balance Transfers Intro APR | N.A |
| Balance Transfers Intro APR Period | N.A |
| Regular APR | 23.99% |
| Balance Transfer Fee | Balance Transfers Not Allowed |
| Foreign Transaction Fee | 3% |
| Annual Fee | Zero |
American Eagle Outfitters (AEO) Credit Card should be an easy choice for shoppers who frequently shop at American Eagle Outfitters for the classic laid-back look that the brand is known for. It not only offers the opportunity to quickly accrue American Eagle Rewards when you shop at American Eagle Outfitters stores, but also when you shop at either American Eagle Outfitters or Aerie stores online. Every dollar that you spend at these stores, whether online or in person, will get you a point good towards receiving discounts, every 100 points earns a $10 discount coupon to use at American Eagle Outfitters or Aerie stores. You will earn 1 extra Aero Point for every $25 spent at these stores. You points will add up quickly so you can save more money.
You can also earn Aero Points on other purchases. A bonus Aero Point will be awarded for every $100 spent anywhere Visa is accepted. You will also receive a 15% savings sign-up bonus when you apply for, and are approved for the card. You will continue to save throughout the year. Cardholders earn a 20% off coupon for their birthday, as well as a voucher for 15% off when you share your email. You are also invited to special events where card members can save throughout the year. The AEO credit card offers two different design options, a classic denim design with the AEO logo, or a sleek silver design with the Aerie logo, so select the one that best displays your unique style.
You will need a good credit score in order to be approved for this card, so it is ideal for people who are starting to build their credit. The card also offers $0 Fraud Liability for unauthorized purchases and charges. So you don't have to worry about being responsible for paying for things that you didn't buy.
This card also offers a low introductory APR and Transfer APR so that you can consolidate your debt and make large purchases while saving money in interest charges. If you love to shop, and love to save. The American Eagle Outfitters (AEO) credit card is the card for you.